One of the Only Compounding ­Pharmacies
in San Bernardino County
Sierra Pharmacy is an independently owned compounding pharmacy with two locations in San Bernardino County. Since our opening in 2008, we continue to provide fast, friendly, and convenient pharmaceutical services to patients and healthcare practitioners throughout Riverside and Orange
County, the High Desert, San Bernardino, Upland, Claremont, Victorville, Pomona, Rancho Cucamonga, and Ontario. Our team is willing to work with all patients and doctors to ensure you get the prescriptions you need at an affordable price.
Do you need specialized and personalized medication? Sierra Pharmacy is one of the only pharmacies in San Bernardino County that provides
customizable medications through our compounding solutions. Our pharmacists work diligently with your healthcare provider to find the best method to treat your ailments. We also offer bubble or blister pack services for any long-term medication supplies.
We take pride in our customer service. We staff highly skilled and personable pharmacists and technicians who go above and beyond to fulfill the needs of our customers. We accept Medicare, IEHP, Medi-Cal, and private insurance to make our care more affordable.Our pharmacy is also bilingual and able to serve our Spanish-speaking clientele.
Don't have the time to pick up your prescription? Not a problem! We offer our patients free delivery on all prescriptions.
A Family Pharmacy
for All Your Needs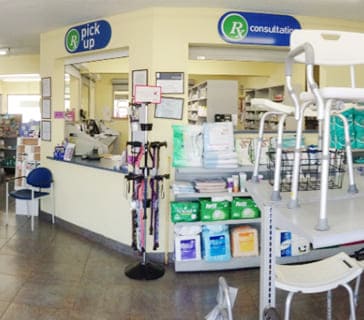 Our family pharmacy offers all the amenities of a big chain pharmacy without the price markups. We are a reliable supplier of over-the-counter medications and supplements,medical supplies , diabetic supplies,surgical supplies, and other healthcare equipment. We also have medical items like wheelchairs and walkers available for rent or purchase. Sierra Pharmacy also serves as a postal center . We provide postal services for all types of correspondences and shipments at both our San Bernardino and Rancho Cucamonga locations.
We offer USPS and Fedex shipping as well as copying, printing and faxing services. Mailboxes are available for rent. We provide notary services as well. At Sierra Pharmacy, we care about getting you the correct medical supplies and prescriptions at a low cost. Contact us or visit our stores to learn more about our services.
---
What are the benefits of choose us as your provider/supplier?
| | | |
| --- | --- | --- |
| Affordable Medications | Durable Products | Great after-sales service |
| Affordable Medical Equipment | Accepts Medicare, Medicaid & Private Insurance | Online Pharmacy / Medical Equipment Store |
In business since 2008
Service Medicare, IEHP, and Medical, as well as all insurances.
Learn more about us
Medical Supplies Home Health, Surgical, Orthopedics and more