Your Pharmacy 
in San Bernardino County
If you, your parents, or your children have a prescription from your doctor, Sierra Pharmacy is the full-service family pharmacy that can fill it quickly. We serve San Bernardino County, Riverside County, Orange County, and the High Desert with the following products, and more:
Prescription medication
Compounded solutions & medication
Supplements
Herbal supplements
Vitamins
Medical supplies
Surgical supplies
Diabetic supplies
Sierra Pharmacy partners with many senior care homes, group homes, nursing facilities, private duty nurses, and therapy and rehabilitation services. We can provide all the medical supplies that your patients need to live healthfully can comfortably. To see if we have the supplies that you need now, please contact us at your convenience.
We accept most insurance policies and offer flu shots in store. Stop in and say hello to our team of dedicated professionals. We're always available for questions regarding your medication needs.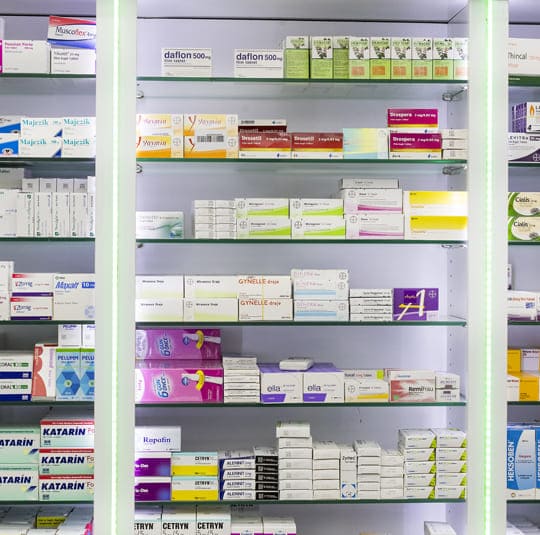 ---
Specialty Pharmacy Offering Compounding Medication
Sierra Pharmacy is one of the few pharmacies offering compounding medication in Southern California. We have the equipment and expertise to create almost any medication that you may need. Start by discussing your unique medication needs with your doctor. Once you secure a prescription for specialized medication, we can help by finding quality ingredients and creating the drug for you.
Our professionals can coordinate with your medical team to create a custom medication that fits your needs without blowing your budget. We understand that many insurance policies won't cover custom drugs, and we do everything possible to keep our prices reasonable. If you want to discuss the potential cost of specialized drug, contact us to discuss your options.
We look forward to serving all of your medical product needs. From knee braces and cough syrup to complex compounded drugs, our team of professionals is ready to help you. Contact us today or stop by the store if you're in the area.